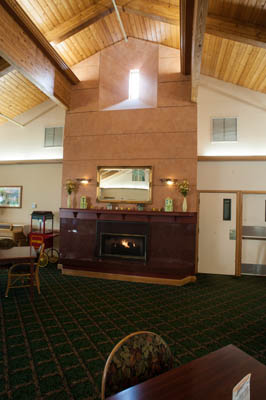 What is assisted living and is it the right option for me?
Assisted living is a long-term care option for seniors who don't wish to or cannot live independently in a house or retirement community, but who do not need the extensive medical care provided by a nursing home or hospital.
At Timberhill Place, we help our residents live as independently as possible by providing services like prepared meals, transportation and basic housekeeping. (See our Included Services.) In addition, some of our residents may need assistance with personal hygiene, eating, dressing and undressing, toileting or medications. These personal support services are provided as needed, for an additional cost per month, so you can stay as independent as possible for as long as possible.
Back to the top

Is there a long-term lease or buy-in?
No. Apartments are rented on a month-to-month basis, and all services are included in one simple monthly payment.
Back to the top

Who owns and operates Timberhill Place?
We are owned and managed by Vintage Investment Properties, Inc., which is based in Boring, Ore.
Back to the top
Yes, all utilities except for telephone are included with your monthly rent. We also have free cable T.V. hook-up and wireless internet access.
Back to the top
Yes. Our Director of Nursing is a licensed nurse who provides consultation with the facility staff regarding resident health concerns.
Back to the top

Will you help me with medications?
Yes, we can assist with prescription medications, as well as any treatments like blood sugar testing or insulin that may require the supervision of a trained Registered Nurse. Assistance with medications is considered a personal support service and we will consider your needs when we help you create a custom plan for the individual services you require.
Back to the top

Can I live at Timberhill Place if I need a wheelchair or walker to get around?
Yes, we can accommodate wheelchairs and walkers, as well as mobility scooters. Our van also can accommodate wheelchairs as needed.
Back to the top

What if I have an emergency while in my apartment?
Emergency pull cords are located in each apartment. We ask that you use these in the case of emergency or to obtain assistance for personal care needs. Pulling the cord activates an audible call to the caregiver staff members.
Back to the top

Can you accommodate special dietary needs?
The chefs at Timberhill Place can provide some simple accommodations, including no added salt or sugar, small frequent meals and simple textural modifications (not including swallowing management of dysphagia textures).
Unfortunately, we are not able to provide meals for sodium restricted, fluid restricted or calorie restricted diets. We also cannot provide pureed foods or thickened liquids, or vegetarian entrees. We cannot guarantee that items on our menu are free of allergens.
See a sample monthly menu for an idea of the types of foods we serve.
Back to the top

What is included as part of the housekeeping services?
We provide weekly housekeeping services for all our residents. This service includes light dusting and cleaning your living areas, bathroom and kitchen. All linens for the bed and towels for the bathroom are provided and laundered weekly. You may also choose to use your own linens and towels.
Back to the top
Yes, small pets are allowed in the building. Small dogs are allowed only on the first floor; cats are allowed on all floors. A non-refundable pet fee will be charged at move-in. There is an additional monthly fee for pest control.
Back to the top

Are personal support services available?
Yes. See our personal support services page for a list of available services. We will work with you to create a personal plan that is customized for your needs, and we can update your services as appropriate.
Back to the top
A laundry room is provided on each floor and wing of the building. The schedule of resident use is posted in the laundry room closest to your apartment. There is no charge for resident use. You are responsible for providing your own laundry soaps. If you need more assistance with your laundry, we can make that available as part of our personal support services.
Back to the top
Smoking is not permitted in indoor areas. An outdoor smoking area is available.
Back to the top

May I have guests? What is your guest policy?
Guests are always welcome and you can arrange for guest meals (there is a nominal charge) at the Reception Desk. You are welcome to entertain friends and family in your apartment, just as you would in any home environment. Please note that we do have a 10 p.m. noise curfew for the benefit of all our residents.
Back to the top

What transportation options do you have?
Our 18-passenger, air conditioned van is available for larger outings. Our smaller, 7-passenger van provides routine transportation to local medical appointments, shopping, and to the bank on a scheduled basis. We also take residents on occasional day trips as well as dine-outs. See our transportation page for a schedule.
If you have your own car, there is ample resident parking available.
Back to the top

Do you provide accommodations and care for Alzheimer's patients?
No. Our assisted living facility is not equipped to manage Alzheimer's patients.
Back to the top

Will I have to move if I need to go on Medicaid?
While we do not accept Medicaid as a payment source for new residents, we do allow current residents who have exhausted their private funds to remain at Timberhill Place with Medicaid as a source of payment. We will work with you and your family to find the solution that best meets your needs.
Back to the top

How can I introduce a family member to assisted living at Timberhill Place?
Every senior has a different idea about his or her needs for the future. The best place to start is by scheduling a tour for your loved one, so he or she can experience the environment at Timberhill Place and determine if it is a good fit for his or her needs. We welcome your visit and are happy to sit down with you and discuss your options, even if you or your family member isn't sure if assisted living is the right choice. Fill out our contact form or call us at 541-753-1488 to schedule a visit.
Back to the top